It's festival season in Nepal!
Late October and early November bring the two most celebrated festivals of the year for Hindus around the world.
Dashain celebrates the victory of the Hindu goddess, Durga, over the demon, Mahishasura, and is the longest and most auspicious holiday in Nepal. The festival of Tihar follows and is celebrated by worshiping different animals and gods for five days. During both festivals, it is common for people to bless each other by sharing Tika (red dots on the forehead) with mothers, fathers, brothers, sisters, elders. Nepal is filled with a wonderful spirit and joy is in the air.
We are also reminded of how much we have accomplished this year, and how much we have to look forward to.
Since March, Little Sisters in Nepal continues to grow with the flourishing of new community projects program. Plus, the newest U.S. based staff member, Abigail Akre began in August and has already contributed so much guidance. In September, new partnership with Keene State College was born. For more information about these programs please continue reading below.
There are over 2,000 Little Sisters and 300 graduates in 20 districts throughout Nepal. The girls continue to surpass national averages in school continuation rates and exams. They are safe and are growing into remarkable young women, role models, and leaders at school, at home, and in their community. They are doing exceedingly well and we are so proud of them.  Our Little Sisters have really grown into empowered young leaders.
Community Projects
The community projects program has been a roaring success even in its first year! Since March 2016, Little Sisters has approved 10 community projects in 9 districts. There are several more ahead of us.
These projects are designed and proposed by Little Sisters, who lead their communities to bring their ideas to life. We just provide a little seed money to help get the project started, and the girls, their families, and community members take it from there.
Now this is some serious work from young community leaders.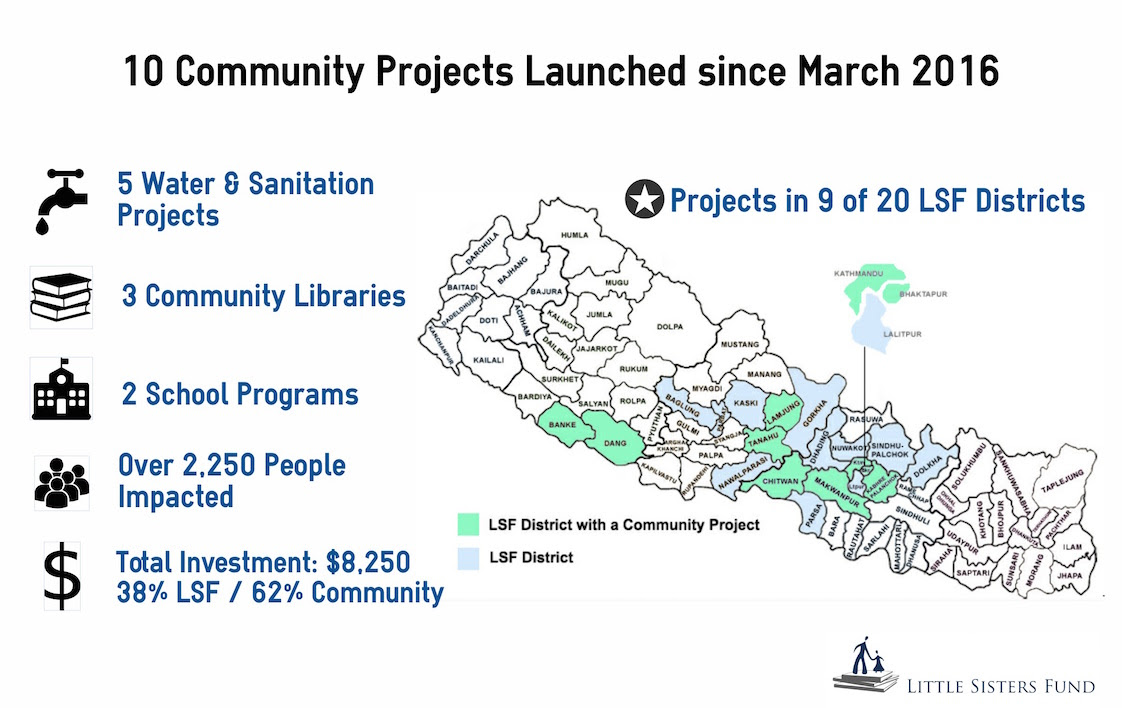 Scholarship Opportunity
Keene State College will now offer two scholarships to graduating Little Sisters for the 2017-2018 academic year. Keene State College is a small liberal arts college in New Hampshire that now joins the ranks of the LSF Partner Universities—Shenandoah University, Centenary College of Louisiana, and the Asian University for Women—to provide Little Sisters the opportunity to continue their education abroad.